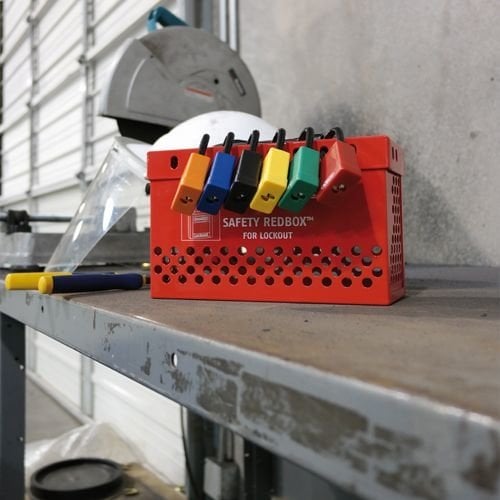 Group Lockout Boxes
Lock boxes are used in group-lockout. When performing group lockout one authorized employee isolates and locks-out all energy sources with a single set of keyed alike safety padlocks.
The key is placed in the lock box, after which each employee or contractor that is involved in the task places their personal padlock on the lock box. Only if all padlocks are removed from the lock box the key can be extracted to unlock the energy.
Using group lockout is a reliable and efficient method for performing complex lockout tagout. Especially in a work environment involving different disciplines and contractors, group locking reduces the number of safety padlocks required and provides a better overview. 
Make sure that it is clear in the LOTO procedure when group lockout should be applied, for example:
Group lockout is only applied when the number of energy sources to be locked is greater than x.

Group lockout is only applied when the number of employees involved, including contractors, is greater than x.


Do you need technical support or more information regarding our products please contact our technical specialists or sales engineers.