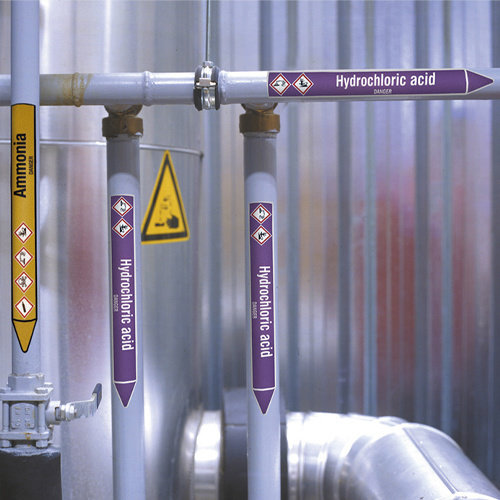 Pipe marking, on liner and linerless pipe markers
European Standard Pipe Markers
Reinforce safety and aid maintenance.
For Dangerous Substances the Chemical symbols conform to European regulations 1272/2008, 790/2009 and 286/2011.
UV-resistant.
Withstands temperatures from -40° to 120°C. Min. application temperature is 5°C.
Available in 7 styles and more than 300 legends.

Pipe Marking: Legislation

Meet the Regulation Standards
The Health and Safety (Signs & Signals) Regulations 1996 Part 3 require all employers to identify all pipes within their facility. Several norms exist across Europe, which indicate how pipes should be identified. Pipes transporting dangerous and hazardous substances must be identified with the relevant danger symbol and the name of the hazardous or dangerous substance.

Safety first

Unmarked pipes are a danger to both life and property. Accidents, injuries and damage to equipment can be caused by people not knowing what individual pipes contain.

The economical choice

By correctly identifying pipes, errors can be prevented. Accidents caused by negligence lead to both physical and psychological grief and often cost companies large amounts of money.

Save time

The correct identification of pipes ensures a better insight into a building's structure – and gaining such an insight with speed and clarity is of vital importance for emergency services, outside maintenance contractors as well as new employees and temporary staff. It will also make maintenance work easier and prevent timeconsuming searches. If an accident does occur, correct identification can help save valuable time - and even lives.


Do you need technical support or more information regarding our products please contact our technical specialists or sales engineers.