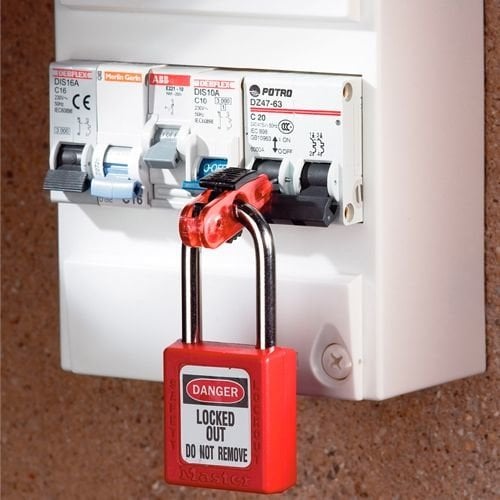 Electrical locking devices
Electrical lockouts are used for isolating electrical energy sources during lockout-tagout and prevent an accidental restart. Lockout-Tagout-Shop offers a wide range of lock-out devices for different types of circuit breakers, insulation plugs, plugs and push-buttons.
Electrical interlocks are available for the following electrical isolation points:
Circuit breakers pin-in

Circuit breakers pin-out

Circuit breakers without pin

Oversized circuit breakers

Motor circuit breakers (starter motors)

Toggle switches

Screw fuses (E27, E33, E14, E16, E18)

Blade fuses (NH fuses)

Wall switches

Industrial plugs

Batteries

Pushbuttons

Emergency stop

Control consoles
Electrical interlocks that do not isolate the main power, but only the control current are officially not lockout-tagout interlocks. This is because the locking of control currents fall under the rules of the machinery directive. This especially applies to pushbutton and emergency stop locks.
Electrical interlocks are for the most part made of non-conductive materials and should be secured with a non-conductive safety padlock, preferably a lock with a non-conductive plastic shackle.
These days there are many universal lockouts on the market for circuit breaker lockouts. That is why the number of different lockouts for electrical hazards can be significantly reduced.
Do you need technical support or more information regarding our products please contact our technical specialists or sales engineers.