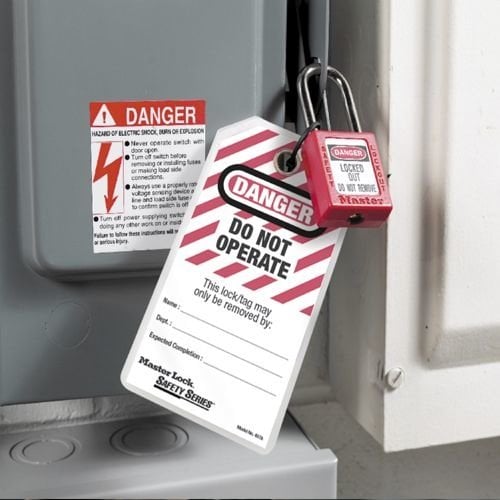 Safety tags, warning labels and Isolation point labels
Safety tags are preferably jointly placed with a safety lock on an isolator (tagout) as a warning that work is in progress. The tag usually indicates who performs the task and when it takes place. Often, the tag also includes a warning icon with corresponding text.
Identification tags are permanently placed at isolators to identify and mark its location, type and to correspond with the procedure sheet.
In any case, the following information can be found on most safety tags:
Warning icon in red or black.
Specific warning text in red or black.
Name of the employee.
Date of posting.
Work to be performed or work permit number.
Different types of safety labels are available:
Single-use tags made of laminated cardboard.
for use in dry environments
Single-use polypropylene tags.
for use in dry and damp environments (also outdoors)
Rewritable and erasable tags in laminated PVC or special polypropylene.
durable solution suitable for almost all circumstances
Metal-detectable rewritable and erasable tags
sustainable solution specially developed for the food and pharmaceutical industry
In addition to our standard safety labels in different languages, it is also possible to design your own tags with logo and the inscription you want. With our Brady label printer solutions, it is also possible to design and print your own safety labels.
Isolation Point Labels
To permanently mark your energy source and to be able to refer to it on your procedure sheet, identification tags or isolation point labels are used, these labels make the lockout tagout process faster, clearer and safer. Insulation point labels contain the symbol of the type of insulation point with a sequential number. We distinguish the following types of insulation points / energy sources:
Control panel
Valves
Thermal
Pneumatic
Hydraulic
Kinetic
Glycol
Water
Steam
Gas
Chemical
Electric

Do you need technical support or more information regarding our products please contact our technical specialists or sales engineers.