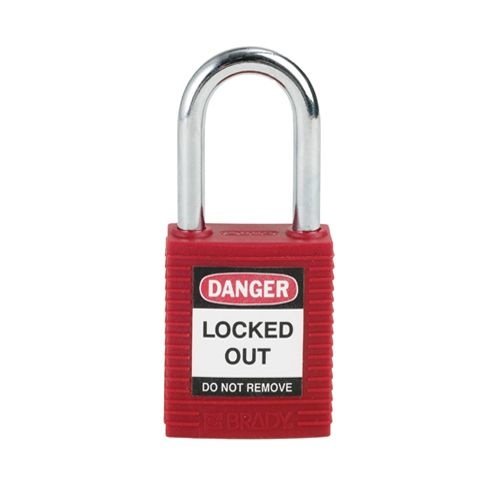 Brady nylon safety padlocks for use in Lockout-Tagout applications
Nylon safety padlocks from Brady are specially developed for lockout tagout (LOTO) applications. The brass lock mechanism is built into an insulated nylon housing where the contact parts between the key and the cylinder are also non-conductive. These nylon padlocks have the following features:


impact resistant
light weight
colour coding
resistant to high and low temperatures
non-conductive
non-magnetic
chemically resistant
the key is locked when the shackle is open
UV-stable
corrosion-resistant

All Brady nylon padlocks come with 1 key (according to OSHA standard), they are equipped with a 6 pin safety cylinder and they can be laser engraved.

Brady nylon padlocks are available with a standard housing and a compact housing, 4 different shackle heights (25, 38, 50 and 75mm) and 3 different shackle materials (hardened steel, nylon and stainless steel cable). The padlocks are available in the following keying options:


• Uniquely coded (keyed different)
• Equally coded (keyed alike)
• Uniquely coded with master key system
• Equally coded with master key system
We always have nylon padlocks available, quick delivery, the best prices and optimal service.