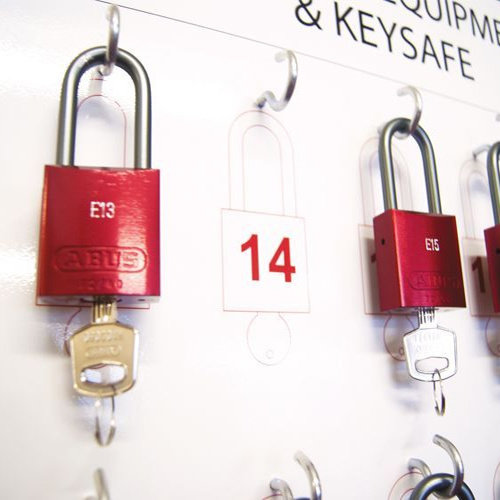 Lockout-Taout Shadow Boards
Shadow boards support the optimization of your lockout-tagout procedures. They enhance the combination of the procedure, the required materials and the work permit.
LOTO shadow boards ensure that employees can quickly find the right padlocks, tags and lockout devices for their work. The coloured shade immediately shows which materials are in use.
Lockout / Tagout shadow boards increase the efficiency of a LOTO program to reduce the number of accidents and risks during machine maintenance work. Visible and direct access to interlocks and safety padlocks will help workers follow procedures more quickly and help prevent accidents and reduce risks.
Shadow boards are custom made and adhere to the principles of "LEAN manufacturing". 
Select which materials you want to place on the board and we will take care of the design and production.
Our lockout shadow boards have the following features:
Magnetic board.

Customer-specific design.

Provide the sign with your company logo free of charge.

Available in different sizes.

Can be equipped with storage trays and a work permit holder.
Prices include print, design costs and mounting materials (excl. lockout materials).
Board gets delivered as a package and needs to be assembled upon delivery
Do you need technical support or more information regarding our products? Please contact our technical specialists or sales engineers.